The world's most popular SUV.
Redesigned and re-engineered from the ground up, the Honda CR-V has reached a
higher level of sophistication, inside and out.
A NEW DRIVING EXPERIENCE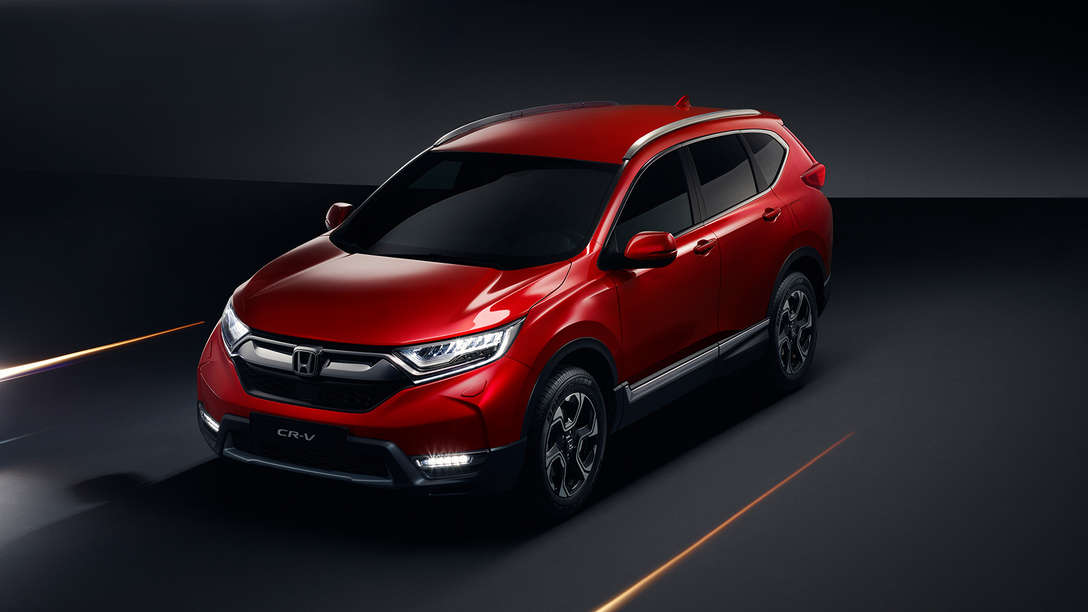 We've put more into it; you get more out of it.
The all-new CR-V is our most advanced and sophisticated SUV ever. It's been engineered to deliver a new level of engaging driving experience. Starting with the engines, the new CR-V offers drivers the choice of 1.5 VTEC TURBO or our innovative i-MMD hybrid system. Couple this with 2/4WD options, manual or automatic transmission – and a 7 seat option on the 1.5 petrol grade – there's bound to be a new CR-V that's perfect for you.
The 1.5 VTEC TURBO petrol grade will be launched first in this model year (2018). The Hybrid will follow in 2019.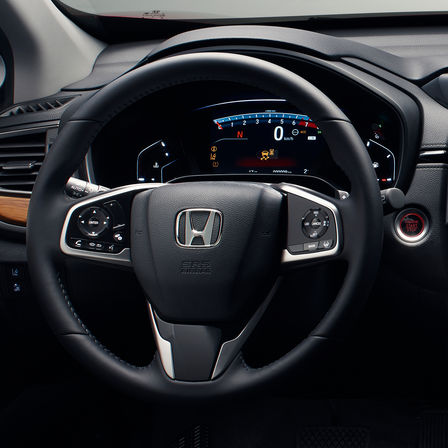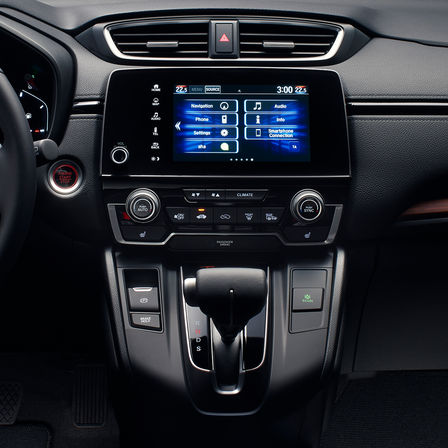 A SENSE OF CONNECTION
The new CR-V comes with total connectivity… and it's all at your fingertips.
All driver information – Driver Information Interface (DII) – is presented on the dashboard. Easy to operate, touch-buttons control a host of features. The 7'' touchscreen system, provides you with mobile connectivity along with a full infotainment system. You will never be out of touch in a CR-V.
Looking forward
Choose as much – or as little – of the information you would like to see using our Head-Up Display. It's easy to select a windscreen view of your speed, revs, Adaptive Cruise Control, Low Speed Follow, navigation, traffic sign recognition, indicators and gear positions, by pressing the steering wheel control button.
Safety assured
Every new CR-V comes with Honda Sensing, a comprehensive suite of driver-assist technologies. Combining both radar and camera information, the CR-V will assist the driver in every way from highway cruising to helping you make safe manoeuvres in a tight parking spot.
SHAPED FOR NEW ADVENTURES
New Honda CR-V: More space, comfort, convenience and technology
Increased wheelbase enables significantly more spacious interior without increasing exterior length
A host of convenience and technology features for all occupants throughout the cabin
CR-V petrol models available with the option of seven seats for the first time
Class-leading cargo space and a fully flat loading bay with the option of a hands-free tailgate
Since the launch of the original CR-V in 1995, the model has been a benchmark in the SUV sector for space efficiency. The all-new model, available in the European region later this year, builds on this heritage to deliver the most practical and comfortable CR-V yet.
At the outset of the creation of the all-new CR-V, Honda's engineers heavily revised the vehicle's platform. The wheels were repositioned further towards the corners of the car, increasing the length of the wheelbase by 40mm, and improving ground clearance by 40mm. This change to the wheelbase, alongside an increase in vehicle width of 35mm, has unlocked further space for occupants, while retaining the same overall length.
Better space for occupants
Inside, this extra space has been put to good use. Front passengers benefit from a 5mm increase in headroom and 16mm more hip room. The tandem distance between front and rear passengers is further improved by 50mm, while a thinner fuel tank positioned ahead of the rear wheels benefits rear legroom by 50mm also.
The opening angle of the CR-V's rear doors has increased by 6 degrees, which, combined with the increases in occupancy space provide easy entry and exit for passengers, and improved access for the fitment of child seats. A further highlight is the new 'wrap around' lower door sill, minimising the likelihood of dirt on clothes during passenger exit.
Best in class rear cargo area and seven seats for the first time
Petrol models of CR-V are available with the option of seven seats, in which all three seat rows have reclining seats, thus ensuring long-distance comfort for all passengers. Second-row seats slide back and forth by 150mm on the seven seater, to create a large entry aperture and a comfortable seating position in the back, even for adults. The third row seatbacks fold down and tumble forwards to provide a larger boot capacity when not required.
Boot capacity is also class leading, with the biggest ever loading bay 'footprint' in a CR-V. New single-action 'dive down' 60:40 split-fold seatbacks, combined with a two stage adjustable cargo floor at the rear of the car, can enable faster, easier loading and a completely flat surface for larger items right through to the second row seats when the cargo floor is in the upper position. These improvements have created a load space with a maximum loading length of 1,830mm on the five seater (or 1800mm on the seven seater) – up a whole 250mm on the previous model CR-V, and big enough to accommodate a 19.5inch frame mountain bike. Another option for owners is to adjust the cargo floor into the lower position to provide a deeper rear boot space.
Convenience and technology features throughout
The all-new CR-V benefits further from a host of convenience and technology features.
Cabin occupants in the front and rear can make use of extra-large capacity door pockets, enabled by moving the speakers further up in the door panels. These are large enough to fit a full size tablet device. In the front, a new three-mode centre console adapts to a variety of requirements including a convenient tray for a smart phone, or a large capacity space big enough for a small handbag. Starting from Elegance trim, twin USB ports are available in the rear, providing charging points for phones, tablets and other personal electronic devices. Executive grades also benefit from a hands-free tailgate, complete with the ability to set opening height for use in confined spaces.
First deliveries of the all-new Honda CR-V in Europe are expected in autumn 2018, with a 1.5-litre VTEC TURBO petrol engine available from launch and a five seat hybrid model following early in 2019.